A long overdue update (four years) which is probably the final one for this project, aside from maybe uploading a bunch of setup info and data on the car for anyone looking to do something similar. In 2016 we won the Nightfire Nationals in Boise again, were runner-up at Saturday Night Nitro at Famoso, and Qualified #1 at the California Hot Rod Reunion with a 6.00. Unfortunately the rods were hanging out of it on the top end and that was that, last run on the fiat. At least we went out with a bang.
We started building this car in 2011 with a simple vision in mind- to build a basic, no frills fuel altered with a classic form but modern performance. There was no 6.00 class when we built it, and match race opportunities were few and far between on the west coast. We just wanted a hot rod, a toy that we could run on nitro a few times a year to see what we could do with it. We deliberately designed it to be a challenge because I wanted to see if I could drive it, and we wanted to see how quick it would go on small tires, with no wing, and high gear only. Having just finished up over a decade running big pump "transformer" style fuel altereds with full-tilt management systems and complexity, the simplicity itself was a challenge- how much could we do with how little?
The whole program exceeded our expectations from the beginning. On the appearance side, Estrus Racing and Dennis Jones knocked it out of the park on the paint and lettering. On the performance side, it ran about two tenths quicker than we expected on the first full run. I did a half way decent job of driving it, and we made a lot of good runs with very minimal carnage. The reception to the car was also exceptional and the fans were great. A lot of them "got" what we were doing and their support was very gratifying.
When the 6.00 thing came along, we jumped on it since it provided a couple more races out here. We did pretty good at it, and it evolved in to the focus of the car. We start thinking more about how to win, and less about what we started out to do. A data recorder goes on the car, eventually a wing, and we start talking about bigger tires, two speeds, etc. It's the classic "mission creep" scenario, where one day you stop and realize that what you are doing is not what you set out to do. Actually, what we realized is that what we set out to do, was done. I know I can drive it, and we know what it is capable of running. Mission accomplished. What next?
We had been discussing building an injected nitro combo for years and finally decided to do it. This was going to be a different project completely and we didn't feel like continuing with the fiat was the right move, so we went back to a 23 T that we had previously used and started gathering parts. Halfway through that project in 2017 we ran out of money to finish it and so on a bit of a whim, we threw together a blown combination from parts laying around to be able to take the car to Boise in August. It was a simple idea- put the biggest power plant in the smallest car, the essential fuel altered. On top of the same basic long block we had been running went a PSI 14-71 and we fed it with blanked off 34 GPM fuel pump. A 3.60 gear went in the back to turn 34.5 Hoosiers, along with a 25% B & J two speed.
With no testing and only a vague idea of what it would run from a similar combo 10 years earlier, we hauled it 17 hours up to Boise. That car was an absolute beast. We couldn't keep the front end down until we removed every gram of counterweight and I put it in high gear at the 60 ft mark. Lifting just after half track we ran a 6.11 and a 6.05 before the event was rained out. It was running 3.70's to the eight just murdering the clutch pack to keep the nose down. With the right wheelie bar and a small front wing to allow the car to stay in first gear without flipping over backwards, I think we could have shocked some people with what was possible. It was tempting to pursue it just to make one final jab at the transformer cars by running that quick, but we had other plans and they don't hand out trophies for trolling. If they did, I would have a room full.
That car was also was my last ride, I didn't renew my license. Similar to the fiat project in general, I felt I did what I wanted to do with it and was ready to move on. We gave the chance to drive it to Shayne Stewart, an Australian who moved here to pursue his drag racing goals and he took full advantage of the opportunity. By the end of 2018 we had finished the injected altered, licensed Shayne, and qualified in Nostalgia A/Fuel for the CHRR with a 6.24. There was some more left in it but the way the rules are structured in A/F meant it was never going to be a real threat. I'm pretty sure it's the quickest injected fuel altered to date, but that's another competition with no trophy (or competitors!). We moved the engine package in to Shayne's dragster, had some early issues and by the end of 2019 won the CHRR with it.
Shayne has the altered now and it will be back at some point. The fiat body is still out there too, reborn as the "Good News" fiat by the Hertzig and Hall crew. Ron Capps drove it at the 2019 March Meet and I got to help out with that, which was fun. For Mike and I, that's the end of the altered road. Aside from helping other people, I can't see going back to it at any point as there just isn't anything left to mine out of that shaft. Mike has been playing with them off and on since the mid 60's and I have been doing the same since 2001. It's been a great experience with many memories and lessons learned, and we hope some of you enjoyed following along. Trying to get to the top of the heap in A/Fuel should keep us busy for a while and completes a circle for both of us, having started our racing and driving adventures in injected fuel dragsters.
Thanks for all the support over the years, see you at the track.

-Jeremy
&nbsp &nbsp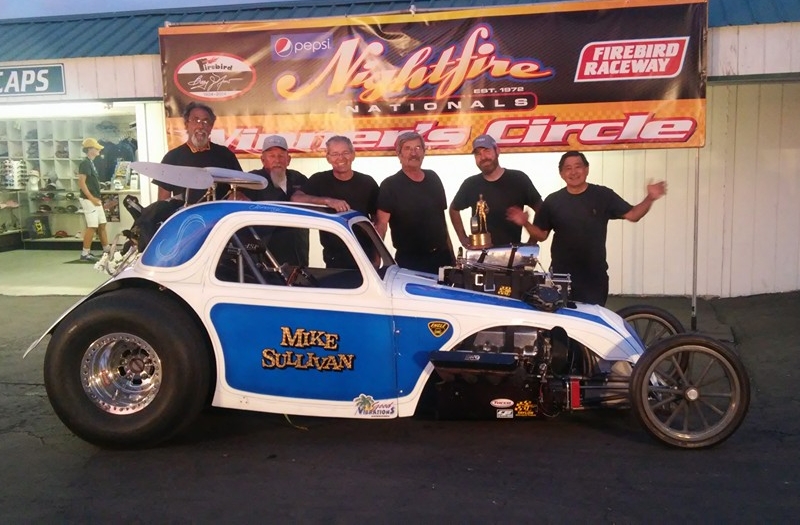 &nbsp &nbsp