Ok, I've been neglecting the site for a bit, but it's time for an update after a busy year. We raced at 5 events in 2015 and made 16 runs, but lets just review some highlights for the year:

Legends:

This year we got to line up against iconic cars like High Heaven, Nanook, Rat Trap, and Pure Hell. Pure Hell in particular has always been a favorite of mine- watching them race in nostalgia top fuel back in the mid 90's was one of the coolest things I ever saw. I've always wanted to be in the lane next to that car and we finally got the chance. A match up with Nanook at Rocky Mountain Raceways stands out as well, continuing a long tradition of fuel altered racing between the two families.

Boise:

We got to take home the cash from the first AA/FA race in a decade at Firebird Raceway. Mike raced at this track several times back in the early 70's and we spent some good times there more recently with the big pump transformer car. Not many cars showed up, but we got to race two-time March Meet champ Dan Hix for the wally and came out on top of it.

CHRR:

We made the list for a 12 car invite only classic AA/FA field at the California Hot Rod Reunion, where we layed down an 1100 ft shut-off 6.01 to qualify #1 and then went on to take home the trophy. This was likely a once in a lifetime gathering of legendary classic cars, we were honored to be part of it.









Consistency:

Not exactly bracket car consistency, but we have an AA/FA that always goes down the track. Our average ET for the entire year was 6.21, ranging from 6.01 to 6.37 at corrected altitudes from 800 to 8000 ft. For a short car on 12" tires with absolutely no wings or aero devices, that isn't too bad. A crew member actually overheard someone suggesting we are using traction control, which is laughable but quite a compliment. It's a 5 second capable car on a good track, but I can tell you that it's a handful when we turn the wick up. This isn't the easy way to do it, but for us and for all of you who stop by our pits and tell us how much you enjoy the car- it's the right way to do it.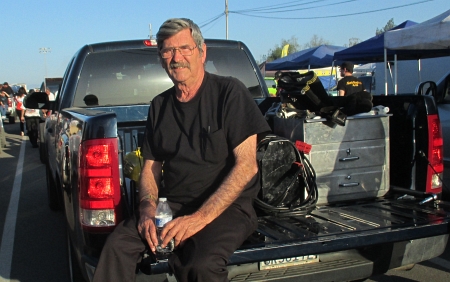 &nbsp &nbsp
&nbsp &nbsp
&nbsp &nbsp


A starting line video compilation from this year: